ADAS - Driver Training Needed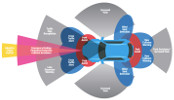 A new vehicle sold today is equipped with a backup camera to help insure that the driver has as complete a view to the rear as possible to insure safety while backing up. An IIHS study compared the crash rates of cars with and cars without backup cameras. Overall, cars with cameras were 17% less likely to be involved in a police-reported backup crash. Why was the reduction so small?
Follow up research showed that drivers were now using the cameras as their sole source of information when backing instead of doing a complete visual scan of the environment. The failure to look over the shoulder induced a new blind spot, hazards approaching from the sides of the vehicle.
This document, written by Steve Casner, a psychologist at NASA, examines the need for formal driver training on ADAS systems, who wants it and what difference it might make.
Link: