Every year beginning on October 1st, B.C.'s highways are posted with signs that require the use of winter tires for light vehicles. The sign shows both the mountain & snowflake symbol and the M+S acronym. While both types of tire meet the requirements, it is very important to understand what M+S really means.
Definition of M+S
One would expect that the markings M+S or the words Mud and Snow on a tire would mean that it was designed for proper winter traction in all conditions. You might be surprised to find that it only defines a tire whose treads:
Have multiple pockets or slots in at least one tread edge that extend toward the tread center at least 1/2 inch from the footprint edge
Measured perpendicularly to the tread centerline, have a minimum cross-sectional width of 1/16 inch
Have edges of pockets or slots at angles between 35 and 90 degrees from the direction of travel
Have a contact surface void area will be a minimum of 25% based on mold dimensions
It says nothing about the tire's rubber compound and its ability to stick to compact snow and ice.
Tire Sipes
Tire sipes may provide up to 40% of the traction on packed and icy snow. They are not required in order to meet the M+S designation.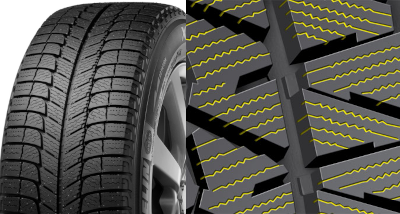 Sipes are shown in yellow
Severe Winter Conditions
Uniroyal's website gives the following advice concerning M+S or all season tires:
All Season tires should be replaced by winter tires on all wheel positions during severe winter conditions (when temperatures are consistently below the freezing point and/or there are regular winter precipitations such as snow or freezing rain).
Most B.C. residents would not think of this as being severe at all!
Below 7 Degrees Celsius
M+S generally means a rubber compound that stays hard and does a poorer job of sticking to highway surfaces at temperatures below 7°C.
The Better Choice
Tires with the mountain and snowflake design are rated for their ability to provide traction in winter conditions where the temperature is below 7°C. Think of them as low temperature tires and choose them over all season tire or M&S when you drive in BC's winter road environment.
Reference Links:
Nokian all season tires also have the snow flake designation; however, if you do your research you wil find out that Nokian just barely meets the bare minimum requirement to attain the snowflake rating. Just because a tire has a snow flake doesn't mean it's an acceptable "winter tire".
Here's is a copy and paste from TIRERACK.COM
What's the difference in snow traction between an M+S (Mud and Snow) branded tire, an all-season tire and a purpose-built winter/snow tire? While many drivers probably aren't absolutely sure, it can be the difference between getting to work, getting home or getting stuck.

The original definition of M+S tires is based on the geometry of the tread design. The M+S designation was first used to differentiate the knobby, bias ply tires intended for use on muddy and/or snow-covered roads from the straight rib tires used on early cars or trucks. Tires with tread designs that meet the definition may be branded with the letters "M" and "S" in several different ways (e.g., M&S, M+S, M/S, MS, etc.) at the discretion of the tire manufacturer.

When early radial ply tires were also found to deliver more snow traction than the straight rib, bias ply tires, the tire companies introduced all-season tires. Supported by advertising, all-season tires have presented an unspoken promise that they, throughout their life, can provide traction for all seasons...through spring's rain, summer's heat, fall's cooling and winter's snow. While this combined offering has made all-season tires popular, many drivers have learned that a geometric definition doesn't guarantee winter snow and ice traction.

In 1999, The U.S. Rubber Manufacturers Association (RMA) and the Rubber Association of Canada (RAC) agreed on a performance based standard to identify passenger and light truck tires that attain a traction index equal to, or greater than 110 (compared to a reference tire which is rated 100) during the specified American Society for Testing and Materials traction tests on packed snow. The new standard helps ensure that drivers can easily identify tires that provide a higher level of snow traction.

A mountain/snowflake symbol branded on the tire's sidewall identifies tires that met the required performance in snow testing. The mountain/snowflake symbol is expected to be fully implemented on new tires by now, however there still may be a few winter/snow tires in the marketplace that meet the requirements but were produced in molds manufactured before the symbol was developed.

NOTE: A Highway Safety Code regulation passed September 17, 2008 for Quebec, Canada, stipulates that:

"Between 15 December to 15 March, the owner of a taxi or passenger vehicle registered in Quebec may not put the vehicle into operation unless it is equipped with tires specifically designed for winter driving, in compliance with the standards prescribed by government regulation. The prohibition also applies to any person renting out passenger vehicles not equipped with that type of tires."

While dedicated winter/snow tires bearing the mountain/snowflake symbol are available in sizes for most passenger cars and minivans, the wide range of sizes and load ranges for tires used on crossover vehicles, sport utility vehicles, pickup trucks and full size vans encouraged Quebec to temporarily expand its definition of acceptable tires to implement this law.

Alternate tires not bearing the mountain/snowflake symbol which have one or more of the following terms branded in their tire name or tire size are temporarily acceptable: Alaska, Arctic, A/T or AT Blizzard, Ice, LT, Nordic, Snow (but not mud and snow), Stud, Ultratraction or Winter.

While the inclusion of LT in this list means that any LT-metric, Flotation LT or LT-numeric sized tire is acceptable, drivers facing challenging winter driving will be best served by selecting dedicated winter/snow tires, followed by On-/Off-Road All-Terrain or Commercial Traction tires.

Starting December 15, 2014, the Highway Safety Code regulation specifies only tires bearing the mountain/snowflake symbol will be considered acceptable winter/snow tires in Quebec.

This list of temporarily acceptable tires only applies to drivers in Quebec.
All weather tires are increasingly available - we just put new Michelin Cross-Climates on the Honda - and I can vouch for the Kumho light truck version already on my Van for more than a year now.
They won't be as good as an all-winter tire, but they're a compromise to consider. No more having to swap twice a year, and I made it to the top of the Whistler Sliding Centre last December with only minimal wheelspin.