RESEARCH - Real World Use of ADAS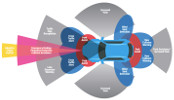 Real-World Use of Automated Driver Assistance Systems (ADAS) and Their Consequences is a research report from the Virginia Tech Transportation Institute that examines how a group of 50 drivers used the ADAS systems in their personal vehicles over a 12 month period. The study found that 47 of 235 safety critical events which occurred during that timespan involved ADAS use.
In 57% of these incidents, ADAS was being misused. The drivers were involved in other tasks, used the systems in places other than highways or had their hands off of the steering wheel.
ADAS failed to react to the safety critical events or failed to warn the driver in 13% of the incidents.
A post-study survey showed that drivers found ADAS useful and usable and felt more comfortable engaging in secondary tasks when ADAS were in use.
While ADAS has great potential to reduce collisions, drivers need to understand how they operate, what there limitations are and how to maintain them so that they function correctly.