Q&A - Tire Chains for 55 Passenger Bus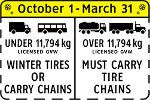 I am trying to get confirmation on the law regarding chain requirements for a BC commercial 55 passenger bus for winter driving.
The wording of the law is ambiguous. It states that school buses must carry chains and Commercial transport trucks must carry chains when driving on the highway, but that passenger vehicles are not required to carry chains.
I am being given conflicting information at work as to whether or I need to be carrying chains during winter months, and I am seeking clarification so as to be certain I am in compliance with the law.