Official Vehicles: The Tow Truck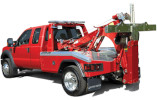 The tow truck is a bit of an orphan when it comes to being an "official vehicle" as defined in our slow down, move over laws. Drivers happening across a tow truck working at the side of the highway must slow down and move over if possible just as they would for an overtaken police vehicle, fire apparatus or ambulance. The latter three types of vehicle are easily identified by the colour of their flashing lights but the tow truck blends in with all the other flashing yellow light equipped vehicles on our highways.
It goes without saying that a defensive driver will slow down and move over if possible for any type of vehicle displaying flashing lights stopped on the shoulder. This would even include a broken down car with the hazard flashers showing. However, there are those who will not unless mandated by law.
Perhaps a tow truck should be given the authority to use a combination of amber and white flashing lights to more easily identify it as being part of the group of official vehicles that we must slow down and move over for. Rather than wondering if we need to until we are quite close, this would allow drivers to make the identification from a distance and take action well ahead of time.
Remember, slowing down for stopped official vehicles at the side of the road is mandatory under all circumstances. Not moving over is only an option if you cannot do it safely. The rule was enacted to protect emergency workers when they are looking after us. Let's look after them too.
Reference Links: