NEWS - Automated Flagger Assistance Devices
TranBC is introducing Automated Flagger Assistance Devices (AFAD) to B.C. Drivers. Apparently those drivers pay more attention to the AFAD than they do to a human traffic controller! In addition, if an AFAD is "killed" in a collision, it is simply replaced.
Even with advanced warning, it is often too dangerous today for a human flagger to stand on the roadway. The AFAD allows the human part of the system to position themselves safely while they operate it.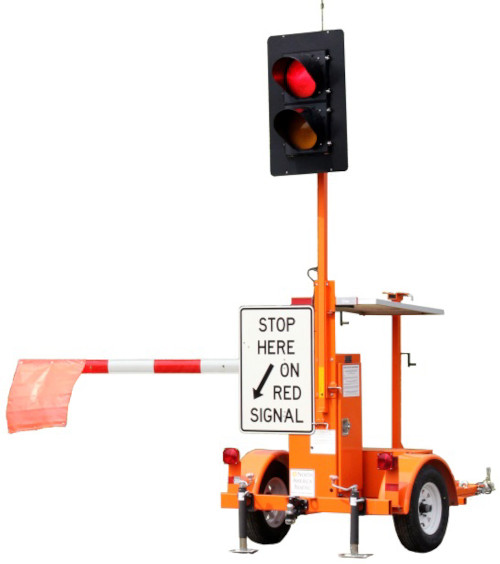 The AFAD has two phases:
Crossarm raised and flashing yellow light displayed. Drivers proceed with caution.
Crossarm lowered and steady red light displayed. Drivers must stop and wait.
Simple enough right? Not so according to TranBC. Some drivers don't know what to do and some simply choose to ignore it. This is not a good thing when the AFAD is controlling single lane traffic.
Operation may be done in multiple configurations:
One person operates both AFADs with one control
One person operates an AFAD at one end of the zone while flagging at the other end
Each AFAD has it's own operator
One person operates an AFAD at one end of the zone while a conventional flagger controls the other end.
Technical information on the use of AFADs is found in section 4.7.3 of the Traffic Management Manual for Work on Roadways.