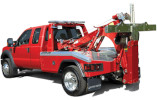 The following story was related by a site visitor from a recent incident:
I slid into the ditch recently and an ambulance happened to be right there at the time. They stopped and checked me out, insisting that I wait for a tow with them as this had occurred on a blind corner. Their dispatch had already called for a tow and while we were waiting the police arrived. I waited with the officer so that the ambulance could leave.
A tow truck arrived and I spoke with the driver. He said that he was not the truck that was dispatched, but since it was such an easy tow, he could do it with his deck truck. He contacted his dispatcher and cancelled the other truck.
I was asked how I intended to pay and I told him that I had a credit card. Since I could almost have driven my car out myself I expected the bill to be $200 or less. It took him about 8 minutes to winch my car back onto the road.
The driver had forgotten to bring his credit card terminal so we had to wait while another truck brought theirs. During the wait the driver added up his bill which came to $445. I did not have that much room on my card and told him so. His response was that if I did not pay, he would load my car onto his truck and take it to the towing company's lot to await full payment. This would add $250 and storage charges onto the bill.
I made a phone call and arranged an e-transfer for the bill:
$165 minimum recovery charge
$161 mileage for 46 km
97.80 fuel surcharge
$71.19 GST
The towing yard is 38 km from the location according to Google Maps.
I feel that this huge bill is unreasonable for 10 minutes work, I didn't choose them myself and I felt threatened by the driver who was going to take my car away from me. What should I do?
The topic is related to road safety and traffic law, so I contacted a couple of towing companies that I trust and asked about this to try and help.
Both companies said that they charge a "gate to gate" fee regardless of whether they are called from their towing yard or happen by the incident. The bill would include mileage, recovery and fuel charges. Both pointed out that towing companies in BC are free to set their own rates and drivers should be aware of the rates before they agree to the tow.
Towing Rates
ICBC sets rates for light / medium duty and heavy duty towing when they will be paying the bill for the incident. These rates will likely be lower than the rates that you and I would pay out of our own pockets.
I contacted the Automotive Retailer's Association about rates. The first sentence in their response was that the tow operator does not have the authority to impound the vehicle for failure to pay rates.
I once worked for a service station with a 1 ton tow truck and that business was a member of the ARA. We used a suggested rate card provided by the ARA to bill for our work. They no longer advise their members on rates and repeated what I had already heard from the towing companies, it was up to them to set their rates.
The ARA also said that the driver should have discussed rates or services up front, bearing in mind that it unforseen difficulties were encountered during the recovery the bill could be higher than discussed.
You may consider getting the estimate in writing before you agree to services.
Ontario is struggling with "wild west" issues involving towing. The Canadian Automobile Association in that province has published their Towing Bill of Rights to show that they will treat their customers fairly.
Who Decides on the Towing Company?
The choice of towing company is up to the driver (or owner) of the vehicle being towed.
If the driver is unable to make a choice or makes an unreasonable choice for the circumstances, police or the road maintenance contractor may choose for them. The police often have a towing rotation that they follow to apportion the work fairly among local towing companies.
Can I Do It Myself?
Subject to doing it in a safe manner for yourself and other road users, to some extent you could do it yourself. Remember that you have no authority to block the road or direct traffic in order to facilitate the recovery of your vehicle. Should a collision occur, you leave yourself open to significant legal liability for damages.
Can I Leave My Vehicle There?
This is identical to asking "Can I park there?" If you wish to come back later on to deal with the recovery of your vehicle, either by yourself or with your chosen towing company, if it would be legal to park there, it's legal to wait there as well.
Notify the police and road maintenance contractor of your intentions as they are the agencies that would order the removal of your vehicle when you are not there with it.
What to do After the Fact
Consumer Protection BC advised that they do not regulate towing companies or their practices. Businesses in BC are allowed to set their own return/refund/cancellation policies and most can set their own payments terms. There is a difference between what might be considered "best practices" for businesses to follow and specific rules that are written into law.
This government agency is responsible for enforcing the Business Practices and Consumer Protection Act. When asked about the threat of impound for non-payment at the roadside as an unconscionable act under section 8, they said that they could not make a determination like that without an official complaint from a consumer so it could be properly assessed.
The Civil Resolution Tribunal is an accessible, affordable way to resolve disputes without needing a lawyer or attending court that encourages a collaborative approach to resolving disputes. Their decisions are searchable on line and a number of decisions involving towing companies are reported.
Small Claims Court is also available to resolve issues. Their web site suggests that when the amount involved is less than $5,000 using the Civil Resolution Tribunal is a better choice.
A number of my newsletter readers have responded to this article with the advice to check your insurance to see if you are covered for emergency road service or not. If you are, some or all of this bill could be paid for by the insurance coverage.
The GST was $21.19, not $71.19.
Persons who believe they were pressured into paying a bill that is excessive can file a complaint with the Better Business Bureau.  The BBB will attempt to resolve the matter.  Your complaint (not your name) will be posted online for others to view if they check the BBB rating for the tow company whether it is a member or not.