We'll See You When You Turn 80!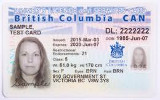 Sometimes I think that our system is designed to keep us in the driver's seat. Even in an urban area, you need a vehicle to get around with convenience. Bend a few vehicles? Pay ICBC a (relatively) few dollars more and they take care of the big bills. Can't or won't follow the driving rules? Pay for a few penalty points and don't worry, you have to get a lot of tickets before they take your licence away. Had your licence taken away? Probably not for very long, even if you killed someone.
Last week's episode of Nova, Look Who's Driving Now, was about autonomous vehicles. One of the experts interviewed expressed the opinion that driving a vehicle is probably the most demanding cognitive task that most people do on a daily basis. I'm sure that you won't be surprised to find that there are many examples in the program where drivers disengaged their brain to do things other than drive while they were behind the wheel.
Our system of driver licensing pays fairly close attention to the first three years of a driver's career. You spend a year as a Learner, pass a test, spend two years as a Novice, pass a test and you are now a fully privileged driver. The restrictions on speed, number of passengers, alcohol use, new driver signs and supervision are at an end.
After that, unless you prove to be incapable, you may pay a renewal fee every five years and not get looked at again until you turn 80.
I once checked a driver who had missed two renewals of his licence. He'd driven for more than 10 years with no licence at all! The only reason I found him was because I was conducting a road check and asking all drivers to show me their driver's licence.
I've been driving for more than 40 years now and can say from experience that there have been many changes to driving in BC since I was 16. In all that time, no one has checked to see if I have been keeping my knowledge current.
There was one test that I had to take at my last renewal, could I still see well enough to drive without corrective lenses? I could, but I still prefer to drive with my glasses on. I like to see where I'm going in as sharp a focus as I can.
Aside from new laws and road improvements that complicate my interactions with others, if I buy a new vehicle I will find myself sitting in the driver's seat with a host of driving assists. Some are mandated by Transport Canada and others I might choose on my own as options.
After finishing up with my purchase, I could decide to hop in and drive my shiny new computerized vehicle away without any instruction at all about how to maintain, use or misuse all these systems.
So, if I keep my head down, don't bump into too many things or run afoul of traffic enforcement, I can keep driving until I turn 80 and no one will ever check to see if I should still be behind the wheel and have the requisite knowledge of the system to follow it effectively.
Even after I turn 80, the regular testing is aimed at making sure that I have the necessary cognitive ability to drive, not that I actually know how to.
Can you think of any other complex, changing system today that allows it's users to carry on without training updates and testing? We'll see you when I turn 80!