QUESTION: I reside in Vancouver and there is a resident (female) in my building, who has a disabled parking pass hanging from her vehicle mirror....The problem that I have with this, is that the permit was for her former husband, who was disabled, and passed away about 2 years ago.
She still uses the permit for her car, and is as healthy, and able, as are most drivers. I have seen her park the car in a permit spot on Granville Island, on more than one occasion, and casually walk to the market.
This to me, is abuse of a permit, not issued to her in particular. Please advise me if there is a reason for her still using this permit.
ANSWER: Disabled persons (handicapped) parking permits are issued under the authority of Division 38 of the Motor Vehicle Act Regulations.
It is an offence to use a permit issued to someone else, even if you are disabled. The issuer of the permit could cancel it for such behaviour. SPARC BC is probably the best known agency that issues these permits on behalf of ICBC but there are others, including People in Motion which issues permits for the City of Kamloops and Thompson/Nicola Region.
You would have to advise the appropriate agency of the permit number that is being misused and ask them to take action. Since the permits are issued to the person and not the vehicle, reporting the licence plate of the offender will not be helpful. The details that you require are printed on the permit.
Here is an example of a permit issued by Cowichan Independent Living: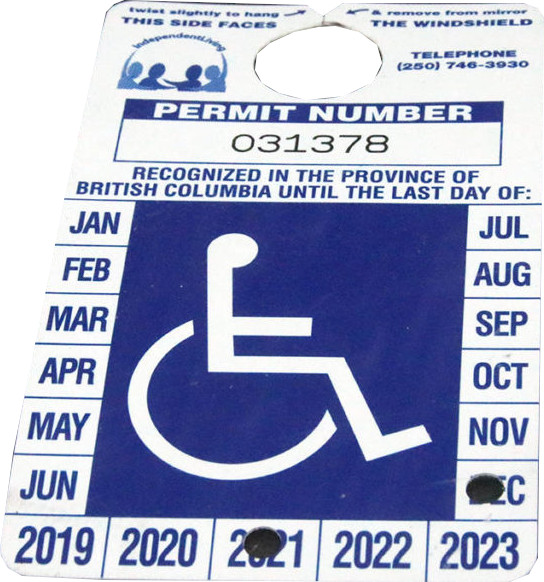 It shows the organization's logo at the top left and the contact telephone number at the top right.
While some people probably do abuse these permits I am always reminded in discussions about this that not all people who qualify to use the permits have a visible handicap. Some have what are called "hidden disabilities", meaning their medical condition doesn't have outward symptoms that are obviously noticeable, and they don't require assistance in walking (such as with a wheelchair or cane).
SPARC BC issues, to persons that qualify for a handicap parking permit, a placard and a wallet card.  The placard displays the permit number and expiry date. 
The wallet card displays the permit number and expiry date as well as the name and DOB of the person to whom the permit was issued.  If asked, the person displaying a handicap parking permit placard is expected to show their wallet card to verify that they are the person to whom the placard was issued.